Our campus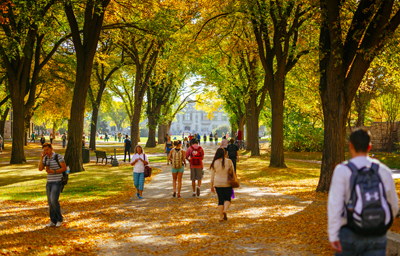 Our historic main campus in Saskatoon is recognized as one of the most beautiful in Canada, with plenty of green space, stately greystone buildings and tree-lined walkways.
As you explore this place, you will discover the spaces that define your university experience. Museums and galleries, libraries, sporting event venues, student hangouts and natural spaces are where life happens and where your most powerful memories can be created.
Things to do
There is more to campus life than class and studying. We have a lot of opportunities to meet new people and have fun.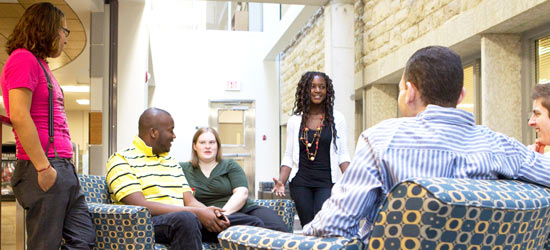 Join a student group
With over 130 campus clubs and societies it's easy to find a group of people with common interests. Joining a group is extremely easy and is a great way to meet like-minded people.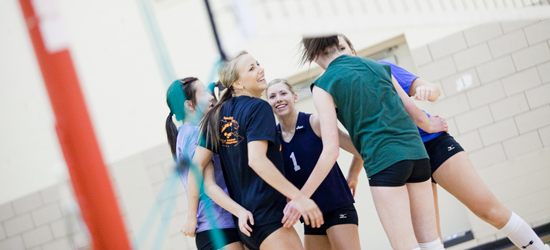 Join a Campus Rec team
Join as an individual or as a team one of our many intramural sports leagues that range from inner-tube water polo to soccer and more. We have one of the largest and most active intramural sports programs in the country; we have more than 50 intramural hockey teams alone! 
Use the Physical Activity Centre
Your student fees include access to our:
Fitness Centre (weights, cardio equipment, fitness classes)
Jr. Olympic swimming pool
Racquetball/squash courts
Climbing wall
Gymnasiums
Dance studio
Gymnastics room
Indoor track
You will also have access to tennis courts, a curling rink, a hockey rink, numerous fields (football, soccer, baseball) and an outdoor track.
Catch a game
Whether it is a Friday night lights football game, our championship-winning basketball team or one of our many other Huskie athletic teams, catch a home game on campus and share the pride! Free for students.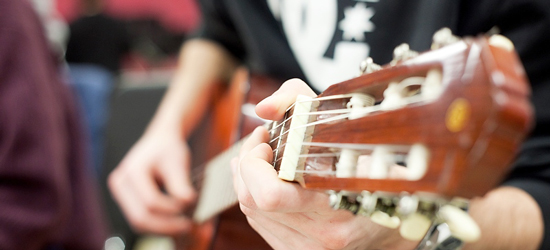 Join an ensemble or catch a touring band
Located on campus, Louis Pub hosts both touring and local bands shows throughout the year. We also have numerous ensembles open to all USask students including including concert band, jazz ensemble, music theatre and chorus, just to name a few.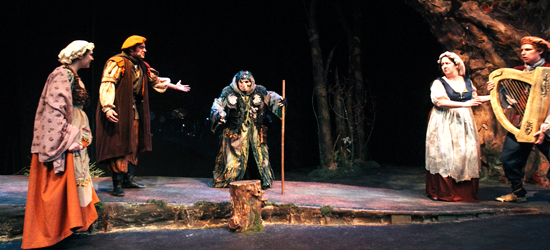 Perform in a theatre production or take in a show
Our Department of Drama puts on four plays a year through its Greystone Theatre, showcasing the work of our students on and off stage. Or you can attend or audition to be part of a drama production with the St. Thomas More College theatre group, the Newman Players.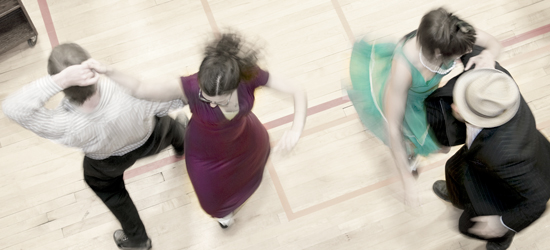 Dance
Our ballroom dance club is one of the largest on campus with over 1,000 members. Campus Rec also has the swing dance club as well as learn-to social dance and learn-to belly dance classes.
Student support
Our students enjoy a high level of support typical of a smaller university, creating an environment that inspires collaboration, innovation and discovery. 
Our history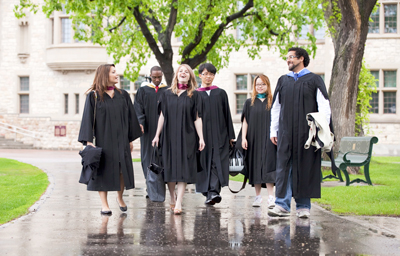 Established in 1907, the University of Saskatchewan has a long history of excellence. 
Our graduates are known for their work ethic, resourceful nature and determination, and will continue to build on our history of success to address the world's challenges now and in the future.
Some of our notable alumni and faculty include:
1 former Prime Minister of Canada
2 Nobel laureates
1 Academy Award winner
1 band on the cover of Rolling Stone
3 justices of the Supreme Court of Canada
4 Governor General's Literary Award winners
10 provincial and territorial premiers
280+ Order of Canada recipients
Academic experiences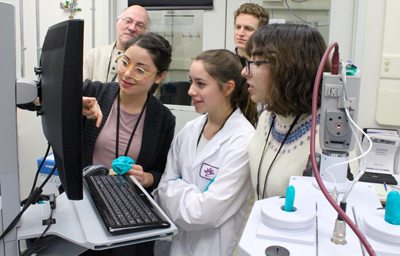 USask is a place where you can learn, grow and be part of a community that recognizes how beautiful knowledge can be.
Our students have the opportunity to gain practical, hands-on experience in their field of study, whether by taking part in an internship or co-op program, participating in a field class, or by taking advantage of a study abroad or exchange program at another Canadian or international institution. 
You will have the opportunity to contribute directly to the world's knowledge as you work alongside renowned faculty in some of the most advanced research and education facilities in the world, such as the Canadian Light Source synchrotron, the Global Institute for Water Security and VIDO-InterVac, one of the world's most advanced containment level 3 vaccine research and teaching facilities.