USASK EXPRESS Admissions workshop and information sessions
Year-round
Varies
Worldwide
Be the first of your friends to get into university!
Join the University of Saskatchewan at one of our upcoming application and admission events! We will take you through the application step-by-step. Grade twelve students that bring all of their transcripts and meet admissions requirements could be admitted on the same day or within one week. You could be the first of your friends to get into university!
Parents and guardians are invited to accompany students and ask any questions they may have about USask.
Choose the date and location below that works best for you. More details are available on the event registration page.
School visits and education fairs
Year-round
Varies
Worldwide
We travel throughout Canada and around the world to speak about the excellent student experience you will have at the University of Saskatchewan. We will introduce our programs, admission requirements, scholarships and bursaries and other opportunities you need to know about as you prepare for your future. 
Check our events listing to see where and when we will be travelling in the coming weeks.
Orientation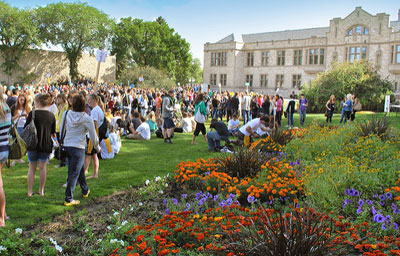 September and January
Varies
USask campus
Orientation is an event held at the beginning of the fall term (September) and winter term (January) for new students in the Colleges of Agriculture and Bioresources, Arts and Science, Education, Engineering, Edwards School of Business, Graduate and Postdoctoral Studies, Kinesiology and St. Thomas More College.
Make friends, get familiar with campus, find your classrooms, learn about your college and have a chance to win great prizes.
Indigenous Spend-a-Day
 TBD
TBD
USask campus
Indigenous Spend-a-Day is a one-day event held at the main USask campus for Grade 10, 11 and 12 First Nations, Métis and Inuit students.
Through interactive sessions, an Indigenous USask student panel and an information fair, students will learn about the program opportunities that have made USask the choice of more than 3,100 current self-declared Indigenous students.
U-Start
May - June 2020
Varies
USask campus, other communities in SK and online
Learn how to choose and register for classes, how you can get a head start, where to get help and things you need to know before September at U-Start.
U-Start is offered in-person and online with dates in May and June, leading up to the opening of class registration for the Fall and Winter Terms. All new admitted students are recommended to participate.
Graduation Powwow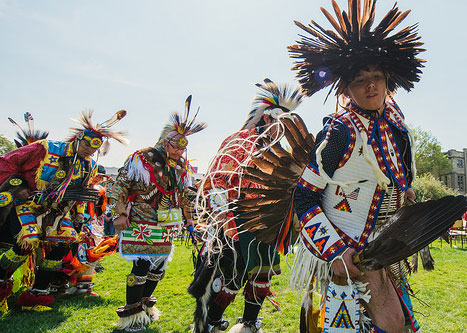 TBD May, 2020
9:30 am to 4 pm
USask campus
The University of Saskatchewan has hosted a powwow on its Saskatoon campus, situated on Treaty 6 Territory and the Homeland of the Métis, for almost 30 years. Since 2009, the Graduation Powwow has been held in the spring to celebrate the academic achievements of graduating First Nations, Métis and Inuit students from USask and Saskatchewan high schools.
Everyone is welcome!
Thousands of children from kindergarten to Grade 12 attend our annual Graduation Powwow. Attendees have the opportunity to:
celebrate and honour Aboriginal graduates from Saskatchewan,
listen to traditional First Nations drumming and singing,
watch a variety of traditional First Nations dance styles and dress, and
participate in educational children's workshops held in tipis and a Métis Red River cart
Open House
TBD September, 2020
9:30 am to 3:30 pm
USask campus

Open House is your chance to experience life as a University of Saskatchewan student! Prospective students, counsellors and parents are invited to attend.
Explore our campus and facilities
Take part in hands-on activities
Meet university staff and faculty
Speak with current students about the USask experience