To help set a good intention for this event, Elders and Indigenous youth from the USask community came together to choose a meaningful name for USask's Indigenous Student Experience Days. The name that was chosen was piihtikway in Michif and pihtikwe tawāw in Cree, which translate as, "Come in; you are welcome here."
About
Indigenous Student Experience Days is an event for Métis, First Nations and Inuit students in high school and their supporters to get to know the USask campus community.
Over two days, you will be able to participate in cultural and academic experiences online, and meet with other prospective and current university students, university staff and faculty, alumni and Elders.
---
Schedule of activities
Tuesday, April 13
9-9:45 am

Welcome and opening prayer from USask Elders Marjorie Beaucage and Roland Duquette
Keynote address from USask alumnus, Constable John Langan, who is a member of the Keeseekoose First Nation and a graduate of the Indigenous justice and criminology program at USask
10-11:30 am
Virtual presentations and information sessions hosted by colleges, programs and student services from across USask
11:30 am-12 pm
Lunch break with St. John Ambulance therapy dogs Murphy, Dibs and Womble
Participants are welcome and encouraged to bring their own pets to visit during this session.
12-1 pm
Drop-in Q&A sessions hosted by colleges, programs, student services and student groups from across USask
1:15-3 pm
Talking Circle with Elders and Circle Keepers
Guidelines for participants (inspired by Our Words, Our Ways: Teaching First Nations, Métis and Inuit Learners):

The circle symbolizes completeness. Participants will speak in the order noted by the conversation facilitator, who can move around the screen in a circular fashion.

Participants in turn will have the opportunity to share their thoughts without interruption.

Everyone belongs and everyone's contribution is equally important.

While not the active speaker, others have the responsibility to listen in a non-judgemental way.

All remarks should address the conversation topic/issue, not the comments made by other participants.

Participants are free to express themselves in a variety of ways, such as sharing a story, a personal experience, examples or metaphors.

When your turn comes around, it is acceptable to pass if you prefer to stay silent.
Wednesday, April 14
9:30-10:45 am
Welcome and opening prayer from USask Elders Marjorie Beaucage and Roland Duquette
USask student and alumni panel
Join us to hear from current USask students and recent graduates and catch a glimpse into the student life at USask. You will learn about the ways you can make your USask experience great! From student clubs, to living in residence, to the best places to eat and study on campus, you will hear it all! Have a question? Ask it in the chat during the session and our students and graduates will answer!
Panelists
Morgan Kalk, Edwards School of Business (BComm'19 - Management)
Amber Bellegarde, College of Arts & Science (BA'19 – Indigenous Studies) and Edwards School of Business, BComm (3rd year - Management)
Kal Ledoux, College of Education, ITEP, BEd (1st year)
Dante Carter, Edwards School of Business, BComm (2nd year - Marketing)
Micaela Champagne, College of Arts & Science, B.Sc. (Final Year - Archaeology)
11 am-12 pm
Fiddle playing by Jordan Daniels
Métis jigging
Guest speakers Dr. Jacqueline Ottmann, vice-provost, Indigenous engagement, and Dr. Airini, provost and vice-president academic
Event closing and final thoughts
1-3 pm
Optional admissions presentation and application workshop for students planning to apply for admission for the 2021-2022 academic year for programs in:
Agriculture and Bioresources

Arts and Science

Education (Language Teacher Education)

Edwards School of Business

Engineering
Please note that we will not be able to address inquiries about the status of applications for admission that have already been submitted. If you have already applied and have questions about your application, please contact the Admissions Office by email at admissions@usask.ca or by phone at 306-966-5788.
The application for admission fee will be waived for eligible Métis, First Nations and Inuit students who submit an application during the application workshop at Indigenous Student Experience Days.
Presentations, Q&As and Materials
GooseChase game
Join in the USask Indigenous Student Experience Days scavenger hunt game and complete missions for a chance to win exciting prizes, all while learning more about the USask community!
To participate, download the GooseChase app to your mobile device and search for the USask Indigenous Student Experience Days game.
The game is on during the afternoon drop-in Q&A sessions from 12-1 pm on April 13, plus you can join the pre-event game from April 9 to 12 for another chance to win!
Prizes include one $50 gift certificate for the pre-event game and two $100 gift certificates for the main game to the Shop USask store, where you can pick up USask gear and other merch. All participants who complete at least one mission and register for and attend Indigenous Student Experience Days will be entered into the prize draw, with top scorers receiving an additional entry!
Speakers
Elder Marjorie Beaucage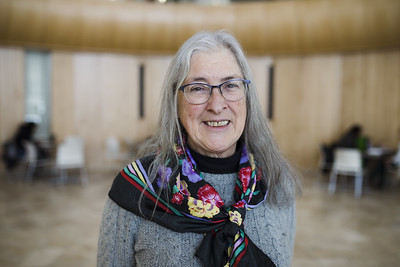 Marjorie Beaucage is a Two-Spirit Métis Elder, filmmaker, artvist, educator, land protector and water protector. Born in Vassar, Manitoba, to a large Métis family, Marjorie's life's work has been about creating social change, working to give people the tools for creating possibilities and right relations. Whether in the classroom, community, campsite or the arts, Marjorie's goal has been to pass on the stories, knowledge and skills that will make a difference for the future. For Marjorie, story is medicine.
Elder Roland Duquette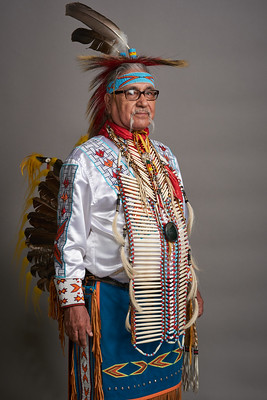 Elder Ermine (Roland) Duquette is from Mistawasis Reserve and has lived in Saskatoon for over thirty years with his spouse, Sherry, and son, Hunter. Elder Duquette is a traditional dancer and is fluent in his Cree language. Elder Duquette has a special gift of relating with youth, which is evident in the grounding cirlces he does with students at the Gordon Oakes Red Bear Student Centre at USask. Elder Duquette was placed in the residential school system from age eight to nineteen, and while the abuse he suffered would be a painful memory, he has learned to cope and heal through sobriety, counselling and his spirituality. He is now employed as an Elder with organizations including the Parole Board of Canada, where he facilitates Elder-assisted parole hearings for Indigenous offenders in the prairie region, as well as with Wanuskewin Heritage Park, Meewasin Valley Authority, Catholic School Board and HIV/AIDS Sanctum Care Home. Today, Elder Duquette keeps active by walking his therapy dog, TooToo, and looks forward to getting back to attending pow wows.
Constable John Langan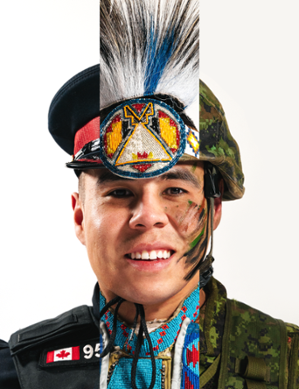 Constable John Langan is a member of the Keeseekoose First Nation and has been serving the Saskatoon community as a member of the Saskatoon Police Service since 2017. Prior to joining the Saskatoon Police, Constable Langan served with the Canadian Armed Forces as a reservist for twelve years, and in 2013, graduated from USask with a Bachelor of Arts in Sociology, with a special concentration in Indigenous Justice and Criminology (IJC). Constable Langan continues to serve part-time with the Canadian Armed Forces as a sergeant in the army reserve while working full-time as a police officer, and is being mentored as a traditional knowledge keeper. Constable Langan's address is titled: Iskocēs Tipiskak: A Spark in the Dark.
Read more about Constable John Langan

Jacqueline Ottmann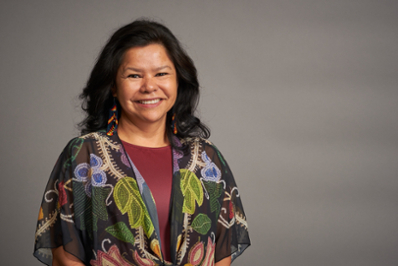 Dr. Jacqueline Ottmann (PhD) is Anishinaabe (Saulteaux), a former elementary and high school teacher and principal, now a scholar. While at the University of Calgary, she was Coordinator of the First Nations, Métis, Inuit undergraduate teacher education program, and Director of Indigenous Education Initiatives within the Werklund School of Education (WSE). She also co-chaired the WSE Indigenous Strategy, and alongside the Provost, the university-wide Indigenous Strategy. In 2017, Jacqueline became Professor and Vice-Provost Indigenous Engagement at the University of Saskatchewan. She has been recognized as an international researcher, advocate, and change-maker whose purpose is to transform practices to become inclusive of Indigenous leadership, methodologies and pedagogies. Jacqueline is driven to create schools and communities that foster a deeper sense of belonging and appreciation for Indigenous peoples - their histories, stories, ways of knowing and being.
Airini
Dr. Airini (PhD) is the Provost and Vice-President Academic at the University of Saskatchewan (USask). She joined USask in February 2021 and holds a professorial appointment in the College of Education. Her three-decade career is defined by her leadership in Canada and internationally in areas of equity in higher education, Indigenous advancement, and converting research and policy into improved education outcomes. Her award-winning research and development initiatives have directly shaped 21st century education systems to close gaps in education success at school and post-secondary levels. Airini earned a BA in religious studies and a MEd from the University of Canterbury, an MBA from Massey University, and a PhD in Curriculum and Instruction from the University of British Columbia. She holds academic appointments in three countries – Australia, Canada, and New Zealand – and currently advises the UN Food and Agriculture Organization.
Jordan Daniels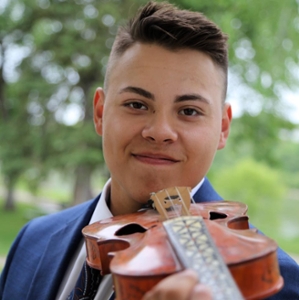 Jordan Daniels was born and raised in Saskatoon, graduated from St. Joseph High School last year, and is a proud member of the Mistawasis Cree Nation. Jordan has been playing fiddle since he was 10 years old and has been under the guidance of John Arcand ever since. Under John's mentorship, Jordan has been learning the traditional Métis tunes and hopes to carry on that tradition. Jordan has also been crowned the Saskatchewan Junior Fiddle champion for 5 years in a row at the John Arcand Fiddle Fest. Jordan is very passionate about the fiddle and loves to share his music with anyone who wants to listen.
MCs
Aubrey-Anne Laliberte-Pewapisconias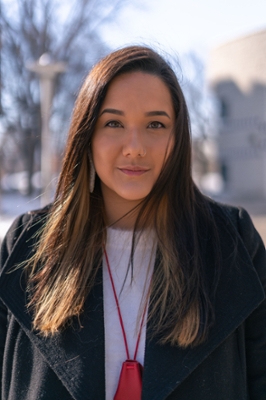 Aubrey-Anne Laliberte-Pewapisconias is a 22-year-old Cree woman from Canoe Lake Cree First Nation on Treaty 10 Territory and has roots to Little Pine First Nation on Treaty 6 Territory. Aubrey is a fourth-year commerce student, majoring in finance, at the Edwards School of Business.
Within the campus community, she is the co-founder of the Indigenous Business Students' Society and currently the Logistics Headwoman with the group. Additionally, she has held both team and leadership roles on the Edwards Business Students' Society, Edwards JDC West, and the Finance Students' Society. Outside of school, Aubrey is the National Student Director with the Council for the Advancement of Native Development Officers and works for Indigenous Clean Energy.
Autumn LaRose-Smith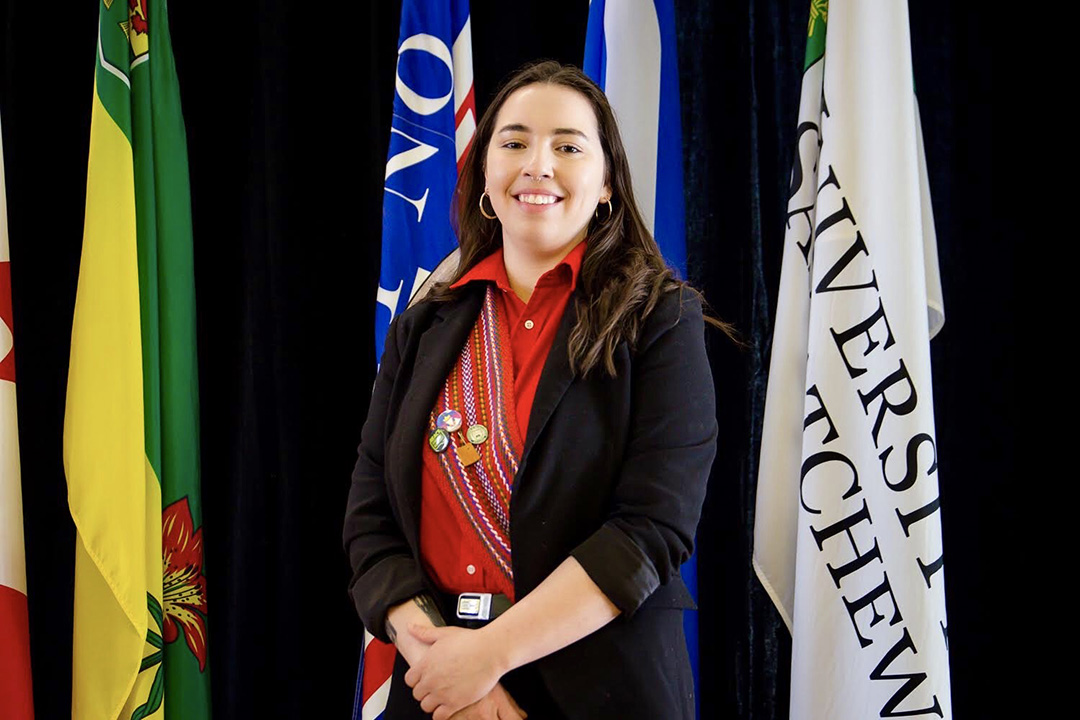 Autumn LaRose‐Smith is the President of the University of Saskatchewan's Student Union (USSU) and the First Indigenous woman to be elected into this position. Currently a student in the Saskatchewan Urban Teachers Education Program (SUNTEP) Saskatoon, she believes in the importance of successful community building and is an active volunteer in her community. She was awarded the Central Urban Métis Federation Young Women Leaders Award, recognizing emerging Métis leaders who are inspirational role models in their careers, achievements or community building. Autumn is a board member for OUTSaskatoon and the Ness Creek Cultural and Recreational Society, and is a National Ambassador of Hope with We Matter.
Technology requirements
Activities during Indigenous Student Experience Days are hosted on Zoom or Webex, both of which you can access directly through your web browser or through a downloadable mobile app, as well as Unibuddy. Here are a few tips for accessing activities during this event.
Webex
If this is your first time joining a Webex meeting, you will be prompted to download the Webex software installer file when you join sessions that are hosted by Webex. Downloading the software is not required. You can join any Webex meeting during this event using the web app instead by clicking Join from your browser.
Prior to the event, you can try joining a test meeting to get used to Webex and test your audio connection.
Zoom
If this is your first time joining a Zoom meeting, you will be prompted to download the Zoom app when you click on a link to join sessions that are hosted on Zoom. You can download the app if you want, but you do not need the app or a Zoom account to join a webinar or meeting. You can join any Zoom meeting during this event from your web browser.
A password is required to join the Talking Circle at 1:15 pm on Apr. 13 and the fiddle playing and guest speaker session at 11 am on Apr. 14. Passwords will be sent to event registrants prior to each session. If you didn't receive your password or did not pre-register but want to attend these activities, reach out to our Help Desk!
Unibuddy
Both the College of Arts and Science and Edwards School of Business are offering activities through Unibuddy, a platform designed to connect you with current students. 
To connect to these sessions, set up your Unibuddy account and/or download the Unibuddy app to connect comfortably from your mobile device.
Arts and Science live session and Unibuddy registration
Edwards School of Business live session and Unibuddy registration
---