About
Would you like to be an engineer? No matter where you are ready to begin, we offer specialized programs to support you on your journey.
There are four routes for Indigenous students to access engineering at uSask:
Quick facts
For Indigenous students
Transition program
You can enter this program directly from high school
You can begin this program off-campus
1. Direct entry to Engineering
If you meet the admission requirements, apply to start your degree program in the College of Engineering. Talk to an academic advisor in the Engineering Student Centre if you are interested in exploring your options or connecting with social, cultural and financial supports.
Looking for ways to get ready for engineering or get ahead? Consider participating in the Summer Bridging Program and Student Success Program for personal and professional development opportunities.
---
2. ISAP-STEM 

Indigenous Student Achievement Program - Science, Technology, Engineering, and Mathematics
Apply to the College of Arts and Science and sign up for the ISAP-STEM Pathway to Engineering if your admission average does not allow you to enter engineering directly, or if you think you would benefit from the extra support and intentional learning environment of the ISAP community.
In ISAP-STEM, you will take a set of common classes with other students interested in STEM programs and gather weekly under the guidance of a peer mentor to support each other through the year.
If you have all of the prerequisites required by the College of Engineering and complete the ISAP-STEM Pathway to Engineering with a program average of at least 60%, you can transfer to the College of Engineering. Students who transfer to engineering from ISAP-STEM are required to attend the Summer Bridging Program.
---
3. ISAP-STEM Accelerator Certificate
If you don't have the required high school science classes to enter Engineering directly, you can start with the Accelerator Certificate before moving on to the ISAP-STEM Pathway to Engineering.
The Accelerator Certificate includes three preparatory classes required for STEM degrees—Biology 90, Physics 90, and Chemistry 90—as well as the Husky Math Lab. These classes can be used to meet the prerequisite requirements for degree programs, including engineering, that require high-school sciences.
---
4. Northlands PRES

Pre-Engineering Science
Students in the North can start with the Northlands Pre-Engineering and Science (PRES) program in La Ronge. Once you complete the PRES program, including completing prerequisite requirements for Engineering, with a minimum program average of 60%, you can transfer to the College of Engineering. 
Self-assessment
If you're not sure which option is for you, take the self-assessment below.
Summer Bridging Program
One to two weeks
August 13 - August 24, 2018
The Summer Bridging Program is open to all Indigenous students entering engineering, and is required for students transferring to engineering from the ISAP-STEM Pathway to Engineering or Northlands PRES programs. The first week of the Summer Bridging Program is focused on transitioning to living in Saskatoon and navigating the University of Saskatchewan campus, while the second week is focused on academic preparation for engineering. Industry tours and guest speakers are another important component of the Summer Bridging Program because they allow students to see career options in engineering first-hand.
Student Success Program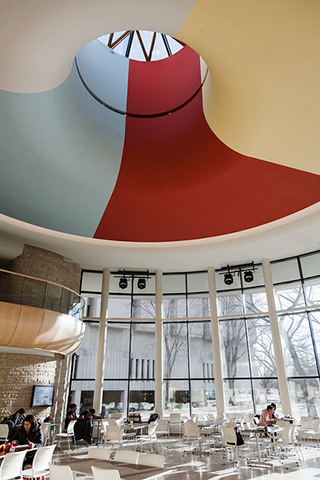 When you are in your first year of engineering, take advantage of social, academic, financial, and employment supports available through the Student Success Program. You'll meet regularly with academic advisors from the Engineering Student Centre and attend first-year facilitated study sessions to help ensure your success as an engineering student.
Indigenous Student Ambassadors organize regular social events, provide group tutorials, and are available for peer mentorship and support.
If you complete the Summer Bridging Program and participate in the Student Success Program, you will be able to access up to $1,000 in financial supports for wellness activities, professional and leadership development opportunities, or emergency financial assistance.
Applications
If you would like to start the PRES program in La Ronge, apply directly to Northlands College.
Otherwise, you will follow the standard steps to apply for all degree programs. When you fill out your application and select a college to apply for, select:
Engineering, if you are applying directly to the engineering program
Arts and Science, if you would like to participate in ISAP-STEM or ISAP-STEM Accelerator Certificate