About
Biomedical science is the foundation of knowledge and discovery that ultimately improves patient care. As a biomedical scientist, you will ask the questions and find the answers that improve the health and well-being of the people of Saskatchewan and the world.
Why study at USask?
Undergrad research opportunities
Learners that are interested in research may have the opportunity to take part in a authentic research experience with a researcher in their fourth year of study by taking part in an honours research project.
Experiential Learning (CURE lab)
Course-based Undergraduate Research Experience (CURE). Students will be provided with a collection of results and observations from suitable experimental systems provided by local faculty. In teams of up to four, students will be coached in developing a "next step" hypothesis and designing protocols to test their hypothesis.
Once the experiment has been acceptably designed, each team will determine reagents required, prepare necessary reagents, set up equipment, carry out the experiment, analyze the results and prepare a formal journal-style report that describes the experimental purpose, the methods, the results and the conclusions.
Careers
Career Possibilities
Other careers: (Note that some of the following positions may require further education or qualifications, depending on the hiring institution and the jurisdiction in which the position is found).
Research and Lab Positions: A variety of laboratory and technical positions are available in academia (e.g., universities and colleges), industry (e.g. biotechnology, private research firms, biomedical supply, breweries, food quality and pharmaceutical companies), government (e.g. agricultural and food agencies and police forensic laboratories), and the healthcare system (e.g. medical labs, hospitals).
Communications: Studies in BMSC may lead to a career in technical writing for textbooks and/or technical reports for government and industry.
Business: BMSC graduates may obtain sales, consulting, or management positions in science-related private sector companies such as pharmaceutical and biomedical supply firms.
Regulatory/Law: Many BSMC graduates are employed by regulatory bodies such as the Canadian Food Inspection Agency and the Food and Drug Administration to develop government policies and procedures and patent law.
Teaching: BMSC graduates are involved in teaching at high schools, universities and technical colleges.
Professional programs
Biomedical Science provides an excellent foundation for each of these professional programs at USask.
Graduate studies
B.Sc. (BMSC) program graduates are well qualified to progress into more advanced biomedical research training in the M.Sc. and Ph.D. levels at various academic institutions worldwide.
Program Options
Core two-year platform in BMSC
All of our majors build on the foundation of a two-year biomedical science core platform which provides students with an introductory exposure to cell biology, biochemistry, microbiology, physiology, and pharmacology. Once the core courses have been completed, students have the opportunity to continue in the program and select one of the BMSC majors. This allows students a broad introductory experience to decide which major suits them best. Students can apply directly to the BMSC program from high school.
First year: study where you live option
Students may complete one year of study toward the requirements for admission to non-direct entry programs, which require previous university study and cannot be applied to directly from high school.
Term One
Term Two
BIOL 120
BMSC 200.3
CHEM 112
CHEM 115.3
PHYS 115.3
PHYS 117.3
MATH 110 or MATH 125
3 cu elective
3 cu elective
3 cu elective
| Term One | Term Two |
| --- | --- |
| BMSC 220.3 | BMSC 210.3 |
| BMSC 230.3 | BMSC 240.3 |
| BMSC 207.3 | BMSC 208.3 |
| CHEM 250.3 | 3 cu STATS |
| 3 cu elective | 3 cu elective |
Choose a major
Timelines/deadlines:
You will choose a major at the end of your second year of studies.
Eligibility
Students will need to successfully complete all of the following: BMSC 200, 207, 208, 210, 220, 230, 240 and CHEM 250 by April 30 (all classes from new template section in M4: Core Requirement) in the year you wish to select a major.
| | | |
| --- | --- | --- |
| BMSC 200.3 | Biomolecules | An introduction to the structures, general properties, and functions of simple and complex biomolecules: amino acids, peptides, proteins, enzymes, carbohydrates, lipids and nucleic acids as well as membranes and solute transport. |
| BMSC 207.3 | Human Body Systems | The first of two courses introducing the major organ systems of the body and how they work. BMSC 207.3 focuses of the nervous system, musculoskeletal system and cardiovascular system. |
| BMSC 208.3 | Human Body Systems II | The second of two courses introducing the major organ systems of the body and how they work. BMSC 208.3 focuses on the respiratory system, urinary system, digestive system and reproductive system. |
| BMSC 210.3 | Microbiology | An introduction to the structure, physiology, genetics and pathogenicity of microorganisms. Topics include the structure and composition of bacteria and viruses, bacterial growth, genetics, and regulation, the role of microorganisms in disease, and an introduction to the immune system. |
| BMSC 220.3 | Eukaryotic Cell Biology | An introduction to the biology of eukaryotic cells. Topics include organization of eukaryotic chromosomes; the flow of genetic information from nucleus to cytoplasm; cellular membranes and organelles; control of cell division; and signaling between cells. Contrasts between eukaryotic cells and prokaryotic microbial cells will be discussed, as well as distinctions between plant and animal cells. |
| | Metabolism | An introduction to the thermodynamic aspects of energy metabolism and the principles of anabolic and catabolic metabolic pathways. Emphasis will be placed on the overall purpose of the major pathways, the precursor molecules leading into these pathways, the important pathway products and the basic types of control that regulate metabolic flux. Examples in prokaryotic systems will be provided where possible. |
| BMSC 240.3 | Laboratory Techniques | This laboratory course provides an introduction to the theory and application of basic techniques in biochemistry, cell biology and microbiology which will serve as a foundation for upper year specialization courses. |
| CHEM 250.3 | Introduction to Organic Chemistry | An introduction to organic chemistry; students will learn to name organic compounds, predict some of the properties and reactivity of compounds based on molecular structure, and grasp the importance of these concepts and their application to all sciences and life in general. Almost all the reactions in living matter involve organic compounds, and it is impossible to understand the molecular processes of living systems without knowing organic chemistry. CHEM 250.3 is intended as a basis for other courses, and a beginning for understanding organic and bio-organic chemistry. The laboratory will introduce students to basic chemical laboratory skills frequently used in organic chemistry. |
List of majors
Biochemistry, Microbiology and Immunology
B.Sc.
The Biochemistry, Microbiology and Immunology major builds on the foundation of the two-year BMSC platform to expand in advanced courses within the third and fourth years that provide students with a molecular perspective on biology (including structural biochemistry, metabolism and molecular biology) with particular emphasis on understanding the immune system, the microbial world, and their interaction.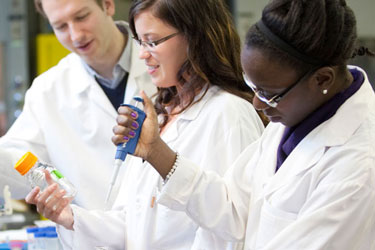 Cellular, Physiological and Pharmacological Sciences
B.Sc.
The Cellular, Physiological, and Pharmacological Sciences major builds on the foundation of the two-year BMSC platform to lead to advanced and more specific exposure in their third and fourth years in courses of anatomy, physiology, pharmacology which offer highly relevant preparation for future studies in health-related disciplines.
Biomedical Neuroscience
B.Sc.
The Biomedical Neurosciences major builds on the foundation of the two-year BMSC platform to lead to advanced and more specific exposure in their third and fourth years to neurophysiology and neuroscience, neuroanatomy, neurobiology of behavior and human neuropsychology, to name just a few of the options available. The selection for the Biomedical Neuroscience major is a highly competitive process.
Biomedical Foundations
B.Sc. (three-year degree)
The Biomedical Foundations major builds on the two-year biomedical science platform groundwork of BMSC platform while offering greater flexibility of upper year biomedical sciences courses the student can complete to qualify for this three-year degree. This serves as a universal option for any student within the biomedical sciences.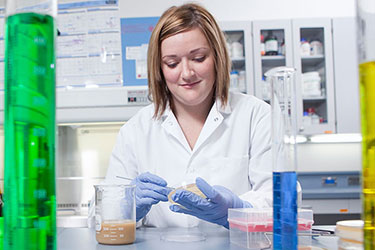 Interdisciplinary Biomedical Science
B.Sc.
The Interdisciplinary Biomedical Science major builds on the two-year BMSC platform offering cutting-edge, multi-disciplinary training that positions graduates for careers in the biomedical sciences as well as health-related professions. This major serves as a strong basis for graduate training in biomedical sciences, community and population health sciences, public health, and health-related professional programs such as medicine, dentistry, and pharmacy.
Ready to apply?
A non-refundable application fee of $90 CAD is required before your application will be processed.