About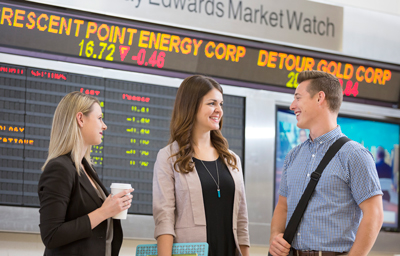 The Edwards School of Business is just the right size. We offer top students a quality education in a welcoming environment where you are treated as more than just a student number. Small classes facilitate learning and interaction, while the larger campus and Saskatoon community provide the social and professional activities business students crave.
---
A Degree in Business
The Bachelor of Commerce (B.Comm.) degree is a four-year program. The first two years of the program are dedicated to providing you with a wide base of knowledge; all students take an introductory course in each of the major specializations before selecting a major in the middle of year two. The school prepares you for the business world by expanding your overall knowledge of business and helping you develop enhanced strategic management, presentation and teamwork skills.
In years three and four of the program, you focus your studies on one of six major specializations, while continuing to develop the business expertise that employers demand.
 Acceptance into several of the majors is competitive and is based on your cumulative average of university courses credited towards your degree until the end of term one in second year. That means first-year grades are important!
Majors
We offer major specializations that cater to a wide variety of interests:
Certificates
Our certificate programs allows students to expand their understanding of the business environment, marketing, human resources, finance, and other concepts commonly encountered in the business world. 
COMM 101 Online
Grade 12 students can take an online business course and receive dual credit for Introduction to Business 30L and COMM 101.3: Introduction to Business.
Learn more
.