About
Finance is the science of funds management, with a focus on saving, lending, and investing money. The field of finance deals with the concepts of time, money, and risk, and how they are interrelated. 
---
Quick facts
Four year degree
Full-time program
You can enter this program directly from high school
You can begin this program off-campus
Get an early start with COMM 101 Online
What you will learn
Finance students take courses in corporate finance, security analysis & evaluation and theory of finance and choose from a number of electives including risk & insurance, entrepreneurial finance & venture capital, and personal financial planning. 
A first-year schedule sample
All first year commerce students will take a common set of classes before entering a specialization, such as finance, in their second year.
Course
Description

Fall Term
COMM 100.3
Business Communication I
COMM 101.3
Introduction to Business
ECON 111.3
Introduction to Microeconomics
COMM 119.3
Skills for Academic Success
INDG 107.3*
Introduction to Canadian Indigenous Studies

Winter Term
COMM 104.3
Business Statistics 1
COMM 105.3
Introduction to Organizational Behaviour
MATH 121.3
Mathematical Analysis for Business and Economics
ECON 114.3
Introduction to Macroeconomics
PSY 120.3*
Biological and Cognitive Bases of Psychology
* These are elective courses. You'll have a number of courses to choose between.
The Course and Program Catalogue has the complete and official listing of required classes and their descriptions for this program. 
Here are just a few of the classes you might take while you complete this degree:
COMM 203: Introduction to Finance
Deals with the functions of the financial manager, including the problems and techniques of financial decision-making. Topics include: goals of the firm, management of working capital, financial problems and decisions involving intermediate and long-term financing, capital budgeting under certainty, and capital structure as it relates to weighted average cost of capital.
COMM 371: Applied Security Analysis
Gives students practical experience in the identification and selection of financial assets with an application to managing the funds held in the Investment Account of the Student Managed Portfolio Trust (SMPT). Students will develop skills related to evaluating and interpreting financial reports, analyst forecasts, and economic outlooks to compare and contrast the relative merits of investment opportunities within particular industries.
COMM 429: Personal Financial Planning
Deals with the advanced concepts related to personal financial strategies. The focus is on developing the skills and teaching the tools a professional will need to practice as a personal financial planner. Topics include knowing your client's profile and financial situation, constructing appropriate investment strategies, advanced tax strategies, understanding of personal risks and risk management strategies, and advanced estate planning strategies. A major objective of this course is to teach the student how to integrate the various strategies to develop a comprehensive financial plan for the client. The legal and ethical considerations in personal financial planning will be considered separately and emphasized throughout the course.
Students from around the world choose to study at the Edwards School of Business because we offer hands-on experiential learning in every area of study. You go beyond analyzing cases and into communities, graduating with legitimate consulting experience on your résumé.
Our four year B.Comm. degree helps students develop the critical thinking, problem solving, communication and teamwork skills that employers demand. In 2018, 89.9% of graduates were employed in their field and only 10.1% were still looking for a job within six months of graduation.
At Edwards, we have a dedicated student advisory team which means you can book an appointment to see an advisor within a day (using our online booking system). We also offer same day drop-in service for quick questions.
Our young, vibrant faculty consistently earn prestigious teaching awards, attesting to their investment in your learning.
Careers
The finance industry expanded at a fast pace for almost three decades. Currently, the industry is a major employer. It ranks behind only construction and health care in the number of jobs. The major banks alone employ more than 170,000 individuals and there are no signs that this situation will change any time soon. As the number of individuals retiring over the next ten years increases, the need for financial services employees is also likely to increase.
The Finance Department is well positioned to prepare students for future careers in finance. The faculty are competent, dedicated educators, experts in their fields of specialization, and they appreciate their students' needs and aspirations. The courses and topics are carefully selected to provide students with specialized financial knowledge and the necessary management skills to be competent financial managers. Students who major in finance graduate well trained and ready to compete and succeed in the market place.
Students who major in finance may continue their professional development with careers like the following:
financial analyst

financial planner

real estate agent/broker

stock broker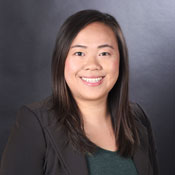 Student Profile
Daisy Truong
2017 Co-op Student: Procurement Assistant, Public Services & Procurement Canada
"I decided to study finance because it is a practical tool that can be utilized for both personal and professional purposes. I enjoy studying finance because it explores the importance of risk and how to manage it in our everyday life. During my co-op placement, I was able to provide the manager with assistance in allocating and monitoring our team's financial budget."
Tuition estimates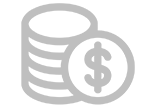 | | Canadian students | International students |
| --- | --- | --- |
| Tuition | $7,541 | $20,587 |
| Fees | $947 | $947 |
| Books | $1,500 | $1,500 |
| Total | $9,988 | $23,034 |
Tuition will vary depending  on the type and number of classes you take in a year. This estimate reflects a typical amount you could expect to pay in your first year if you enroll in a full course load, the maximum number of courses allowed (2019-2020 Canadian dollar rates).
Fees are used to fund specific student benefits, including health, vision and dental coverage, a bus pass, recreational programs and fitness centre access.
The cost of books and supplies varies widely depending on the courses you choose. It is recommended that you budget between $1,000-$2,000 per year.
Program options
Bachelor of Commerce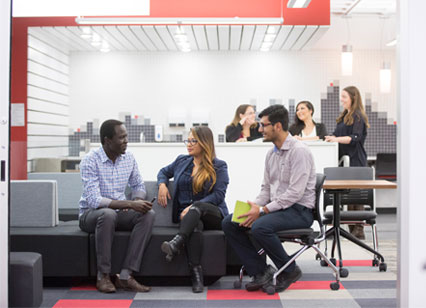 The Bachelor of Commerce (B.Comm.) degree is a four year program offered by the University of Saskatchewan's Edwards School of Business.
All undergraduate students admitted to the Edwards School of Business are required to complete a common first-year of studies. In January of your second year, you'll apply to a specialization in Accounting, Finance, Human Resources, Management, Marketing or Operations Management.
While you complete your Bachelor degree, you can also enhance your experience with the following options:
Admission requirements and deadlines
Deadlines

Start term
Application Deadline
International Deadline
Winter
January 2020
Dec 1, 2019
Documents due: Dec 15, 2019
Sep 1, 2019
Documents due: Oct 1, 2019
Spring
May 2020
Apr 1, 2020
Documents due: May 1, 2020
Feb 1, 2020
Documents due: Mar 1, 2020
Summer
July 2020
Jun 1, 2020
Documents due: Jun 15, 2020
Mar 1, 2020
Documents due: Apr 1, 2020
Fall
September 2020
Jul 1, 2020
Documents due: Jul 15, 2020
Jul 1, 2020
Documents due: Jul 15, 2020
Winter
January 2021
Dec 1, 2020
Documents due: Dec 15, 2020
Sep 1, 2020
Documents due: Oct 1, 2020
Ready to apply?
A non-refundable application fee of $90 CDN is required before your application will be processed.
Stay connected
Do you want us to send you important reminders, information about our programs or notifications about USask events?